---
Hexagram 48: "SPRING"
THE 48TH YEAR OF ANY LIFE.. from the 47th to 48th Birthday.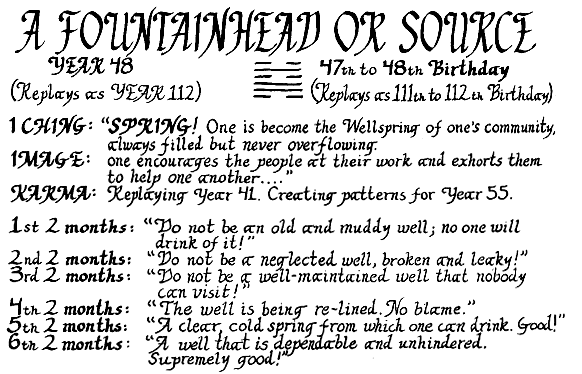 ESSENE THOU COMMENTARY: At the end of this MOST DIFFICULT OF YEARS we are rewarded for our patience and sufferings with that Stature which alone could make it all worthwhile. For seventeen years now we have suffered the Will of Heaven to dictate to us; now, as we enter the Year Of SPRING, we are given the Powers of an ELDER of the Fatherly Light's own House. Suddenly, the whole human Gestalt BOWS TO US and what we will see done GETS DONE with no effort of our own, save our willing of it. Now indeed we are ourself an 'Old Boy;' for even as we become an ELDER, our actual life-experience is reborn, all the way BACK to where it was when we were seventeen! Suddenly YOUNG AGAIN get AGELESSLY WISE, we take back the joy of eternal youth, restored to us by our Maker, as a reward for our devotion.

Go Back To INDEX PAGE Or Continue On And READ NEXT PAGE