Now if you wish to make the As You Like It Bakery's luscious lemon bread, here's the recipe.
Your chances of it coming out Heavenly are guaranteed if you are careful, for the pigs have ceased pigmatizing bakers.
LEMON BREAD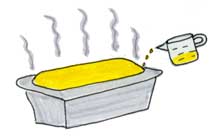 Combine Dry ingredients into a bowl: one and one half cups of all purpose flour, one cup of sugar, one teaspoon of baking powder, and on half teaspoon of salt

In another bowl, combine Wet ingredients: two beaten eggs, one cup of milk, one cup of oil, and the zest of one lemon, chopped.

Combine Dry and Wet ingredients and beat until blended. You may also add some blueberries or chopped nuts if you like. Bake. Test for doneness. While still hot, pour glaze over top of breads.

STICKY SUGARY LEMON GLAZE

Mix juice of one lemon with one half cup sugar or honey, warmed.

Baking Directions: Preheat oven to 350. This recipe makes two small loaves which bake for 35 minutes, or one large loaf which bakes for 45 minutes. Test for doneness.